About Us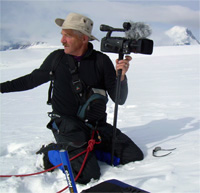 Alan Bibby - Producer/Director/Cameraman/Editor
Alan has over 30 years experience in a wide range of media.
Through the 1970's and 1980's, Alan managed his own company which made networks sales in the U.S. and Britain. He produced, directed and shot several major documentaries for the CBC, BBC and ABC networks including: "The Darien Gap", " Expedition to Patagonia", "Wings", "The Vertical Desert" and "The Making of Rage" (CBC), "Lord of the Tremors" (BBC), and "Operation Drake" (ABC)
Alan has worked with the National Film Board as producer, director, production manager and soundman. Alan produced and was DOP of "Cowboy" - a Genie Award finalist (1986). "Cowboy" was also voted a Special Jury Award at the 1986 Banff Mountain Film Festival. "Bears to Bartok" and "The Man from Petrocan" won Best Documentaries at AMPIA. "Foster Child" has garnered hundred of awards, world-wide. Co-productions with the NFB include "Meeting Ground" and "The Long Walk".
Alan was a vice-president of The Image Works Inc. from 1992 - 1995. During this period, Alan was responsible for several productions that won AMPIA awards, and also the Emerald Award for the 3-part series: "Alberta's Boreal Forest". He was co-winner of a prestigious award at the 1993 Banff International Festival for "Hockey Night in Harlem".
For 7 years, Alan was the director/cameraman and editor of many social documentaries. Productions included a series on marriage & relationships, new approaches in psychology, counselling, education, substance abuse, prison reform, homeless issues and community renewal. "Applications: Health Realization in the Community" won an AMPIA award in 2000.
Alan's most recent film credits include "40 Years On - Return to Patagonia", "War in the Mind" and "White Water, Black Gold". He is currently working on a documentary on Lyme Disease "A New Lens on Lyme".